MY COMMUNITY - MY WATERSHED
Community-based flood conditions, data resources, and upstream watershed characteristics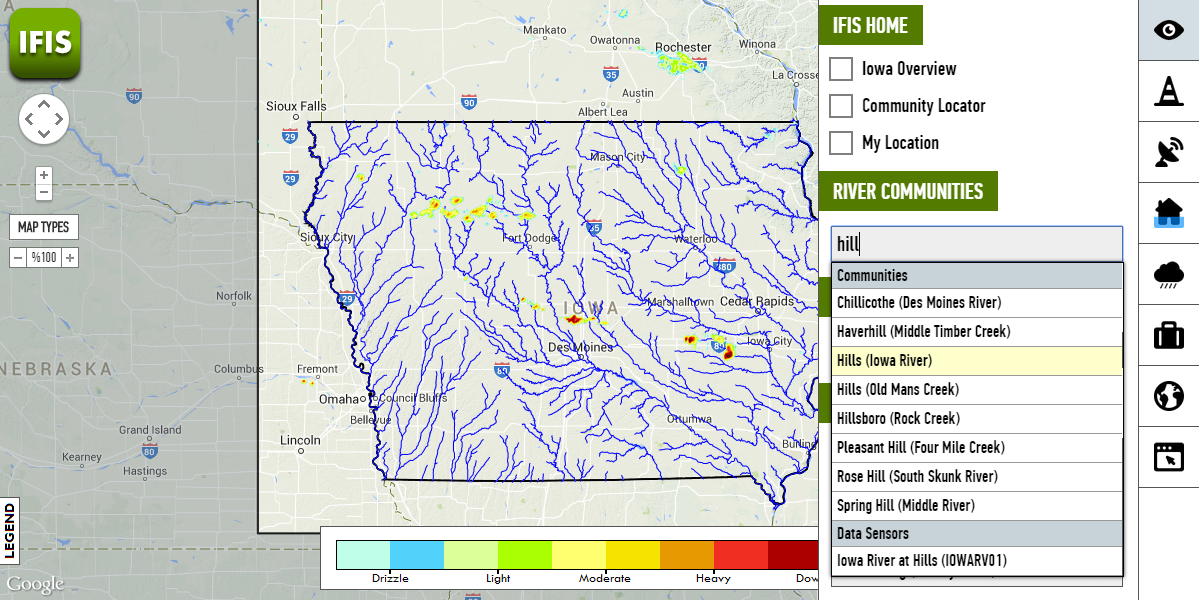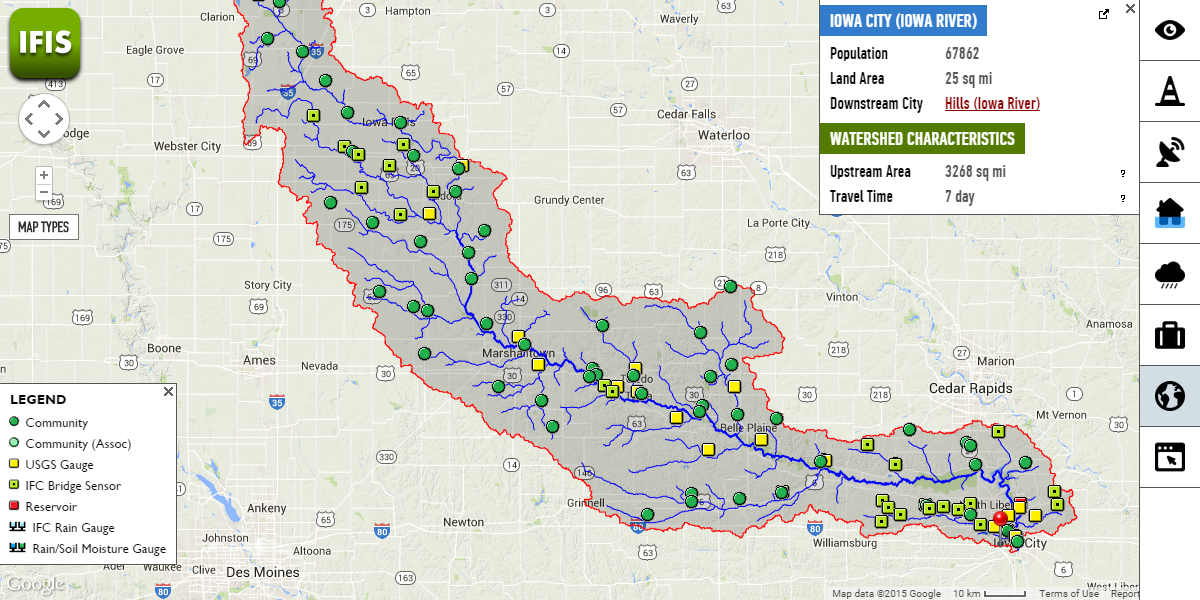 FLOOD INUNDATION MAPS
Inundation maps provide information on the extent and depth of flood waters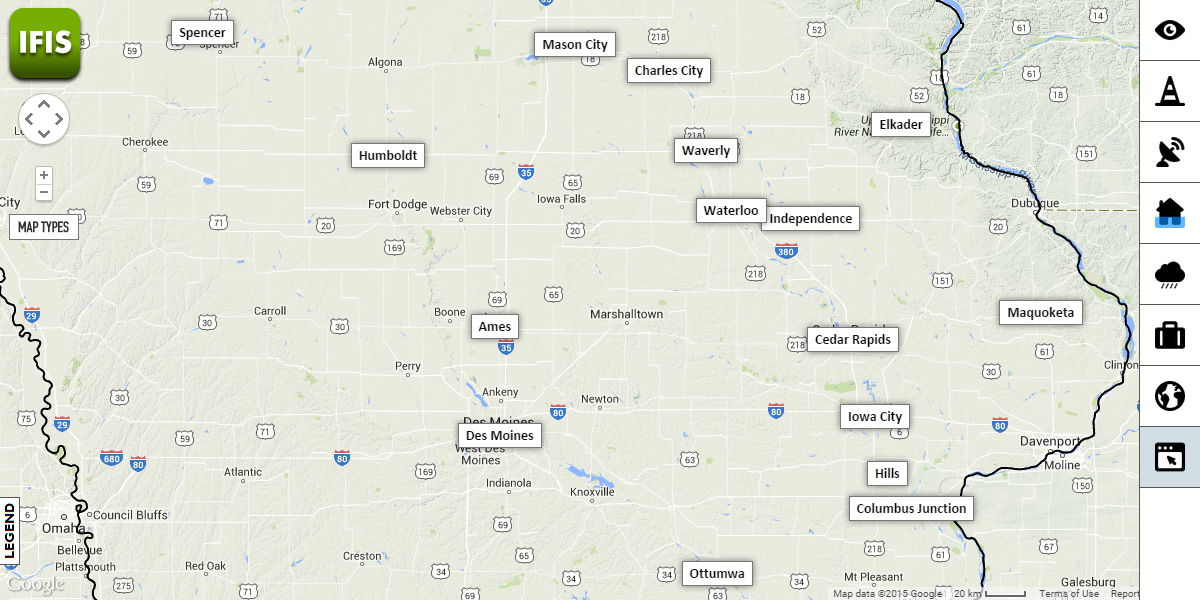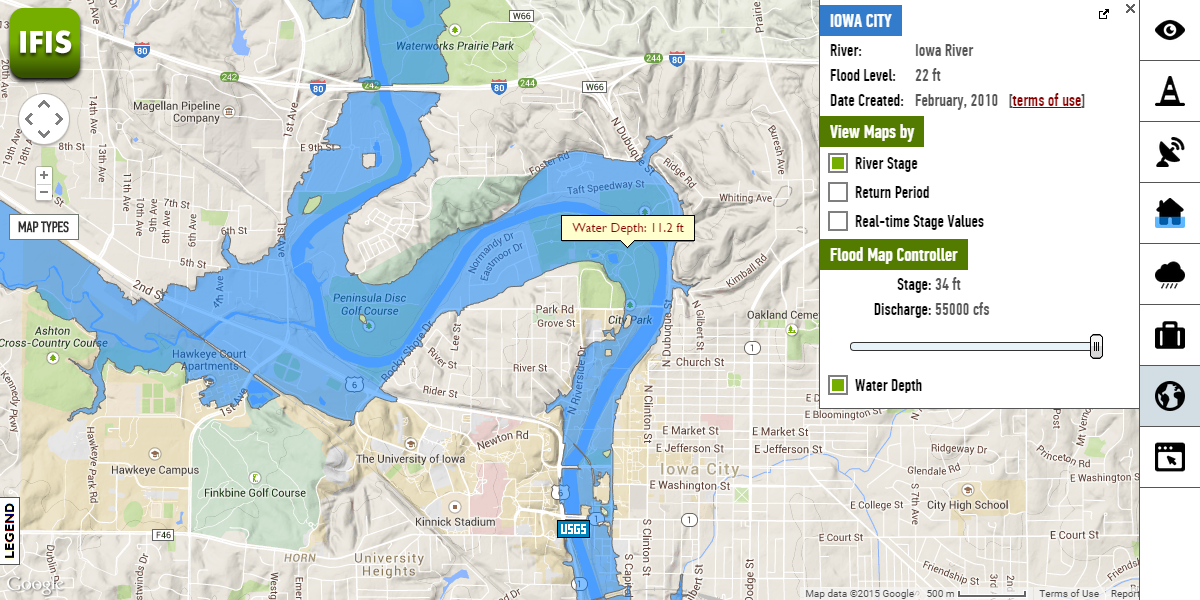 FLIGHT SIMULATOR FOR FLOOD INUNDATION MAPS
Fly over any flood inundation map in Iowa using interactive flight simulator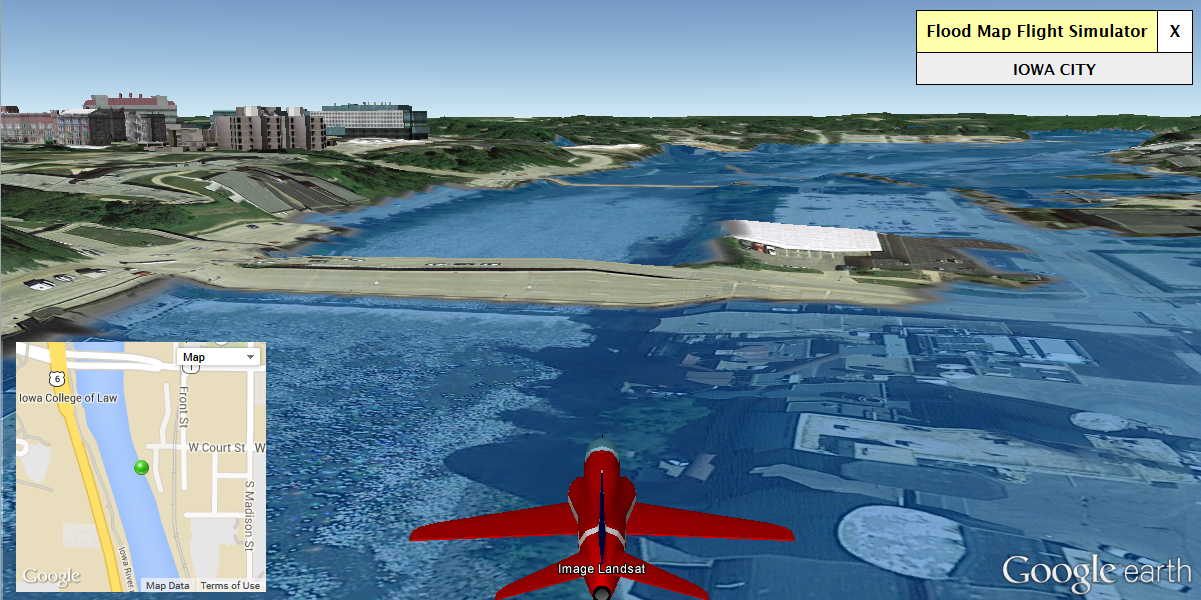 FLOOD CONDITIONS AND FORECASTS
Real-time water levels and stage heights with flood alert levels, and flood forecast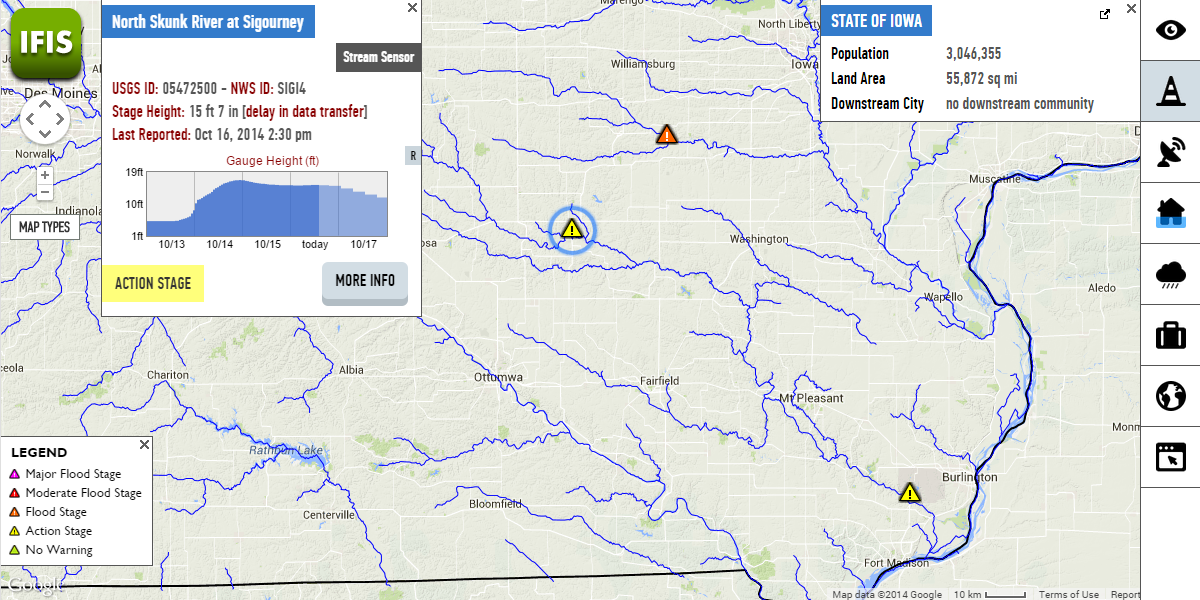 SEASONAL FLOOD FORECAST
9-day seasonal flood forecast at USGS gauge locations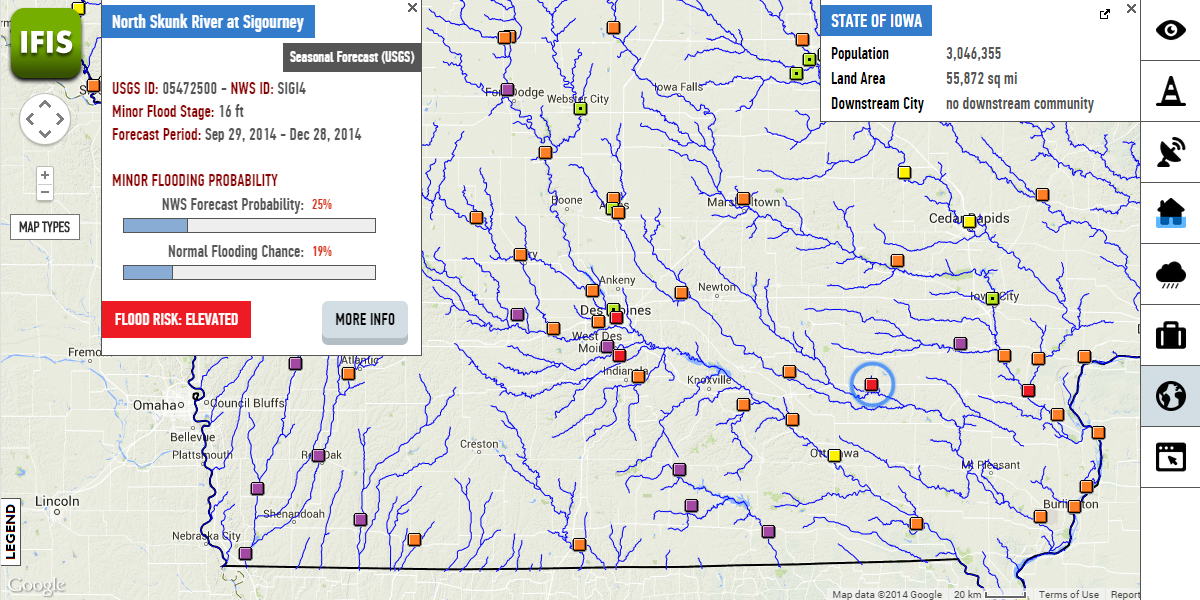 FLOOD RISK CALCULATOR
Calculate risk of flooding based on annual chance and duration.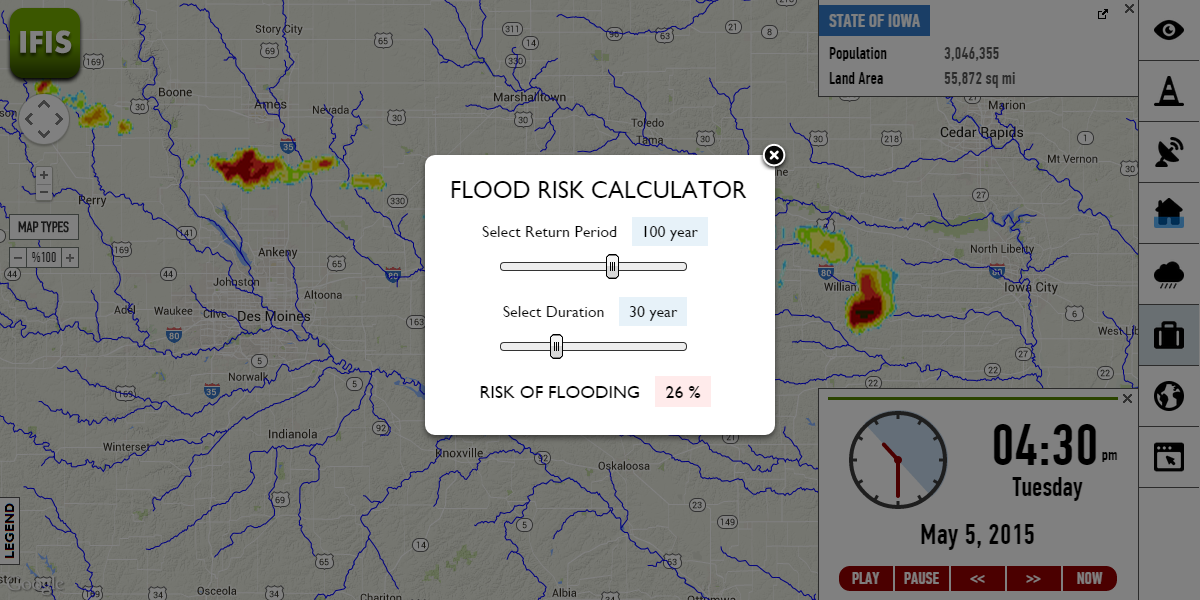 WEATHER CONDITIONS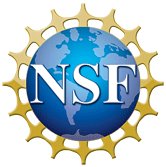 Real-time rainfall maps displaying current conditions, and past rainfall accumulation. Rainfall products are supported by National Science Foundation (NSF) under grants 0427422 (ATM) and 0839576 (GEO).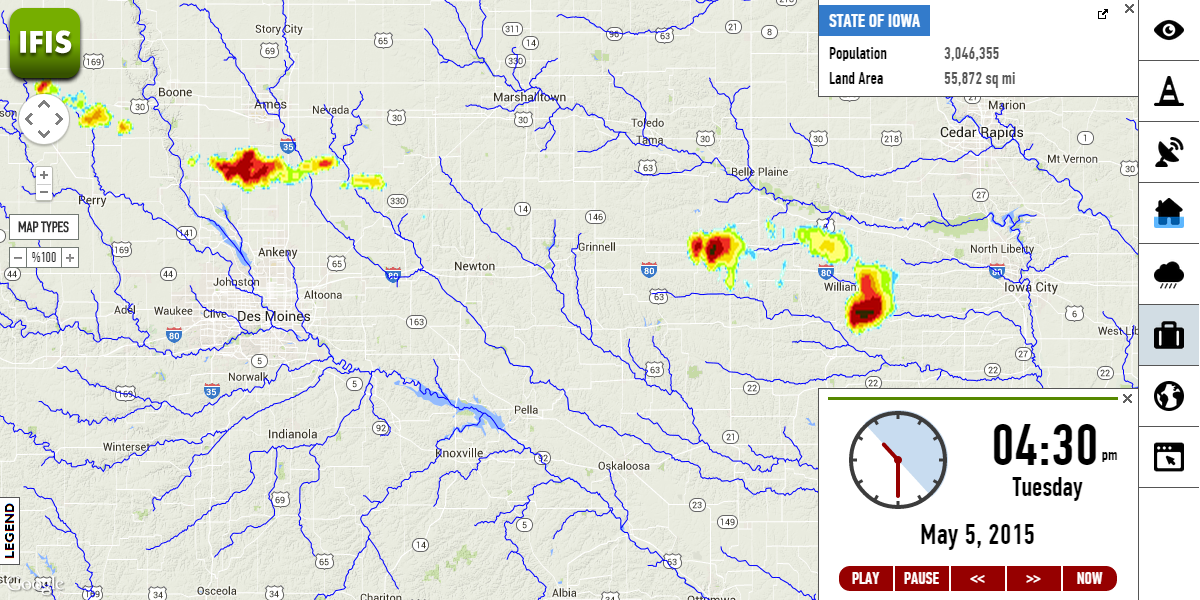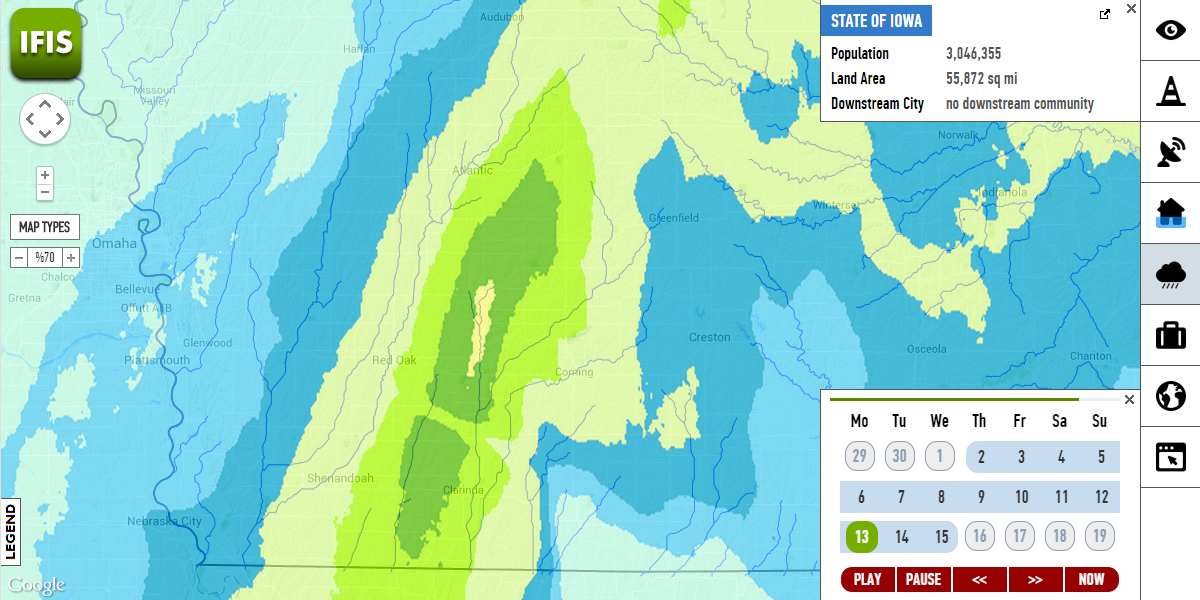 RAINFALL FREQUENCY MAPS
Compare daily rainfall accumulation with frequency in real-time (utilizing WebGL)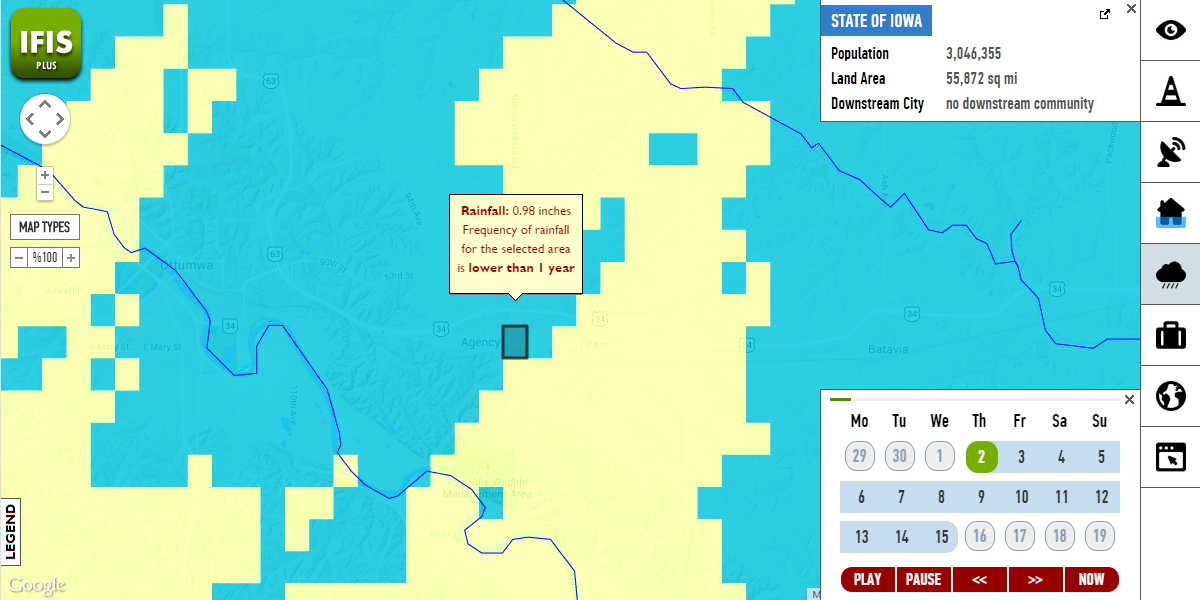 DAILY SNOW MELT
Hourly snow melt for Iowa for the last 11 days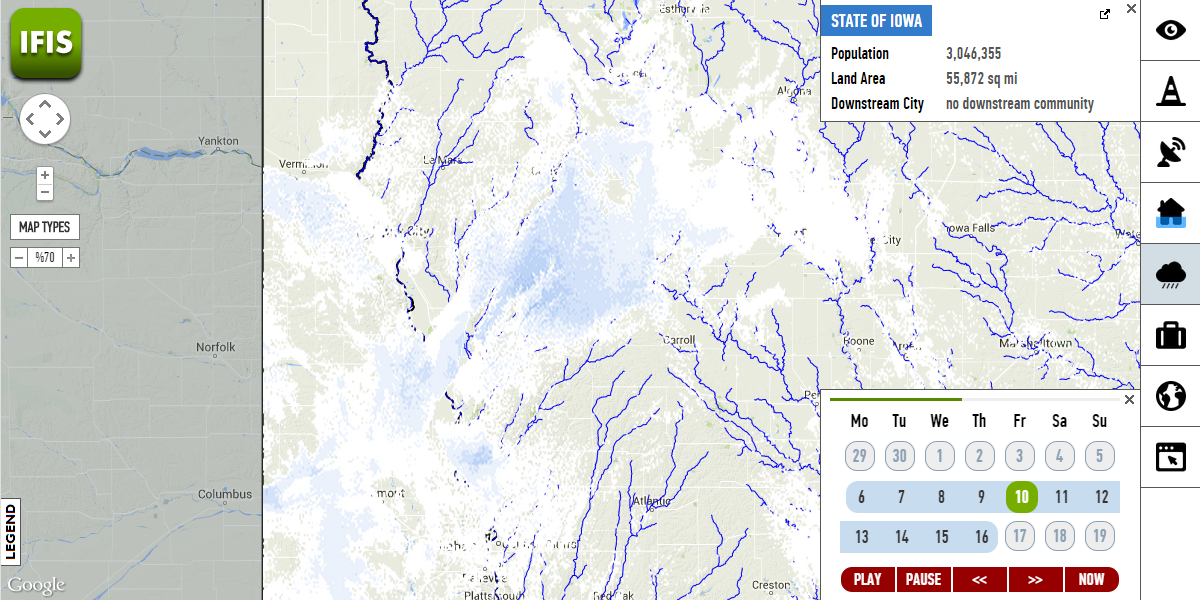 INTERACTIVE VISUALIZATIONS
Visualizations of water levels and stream gauge readings with 3D/2D interactive animations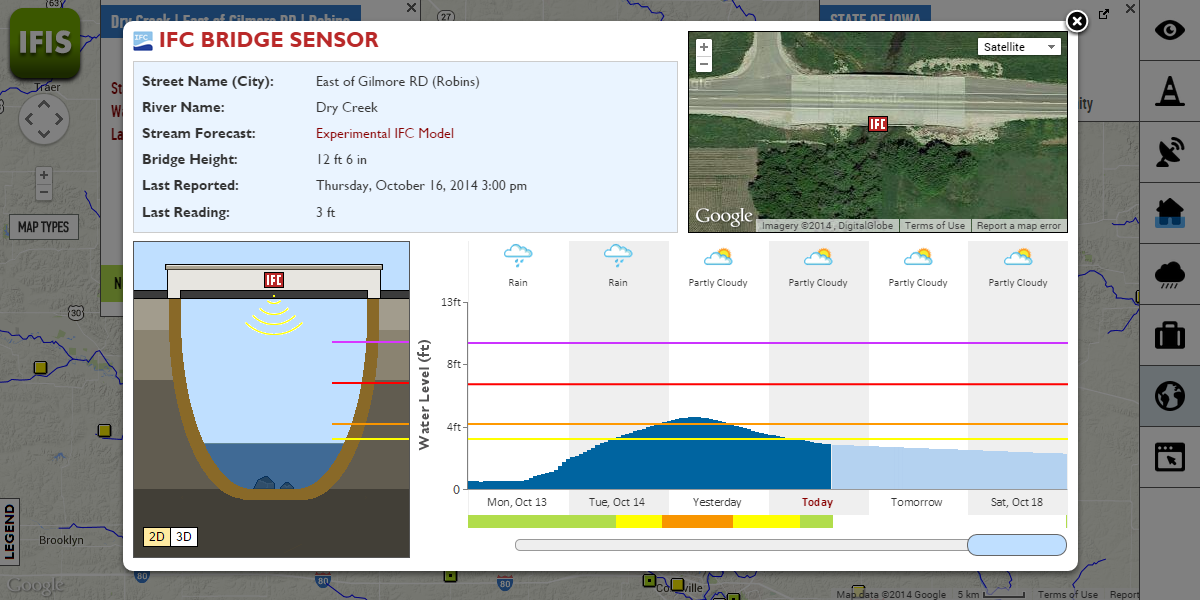 IFIS DATA RESOURCES
Data from IFC's bridge sensors, rain gauges, and data sources with real-time and historical information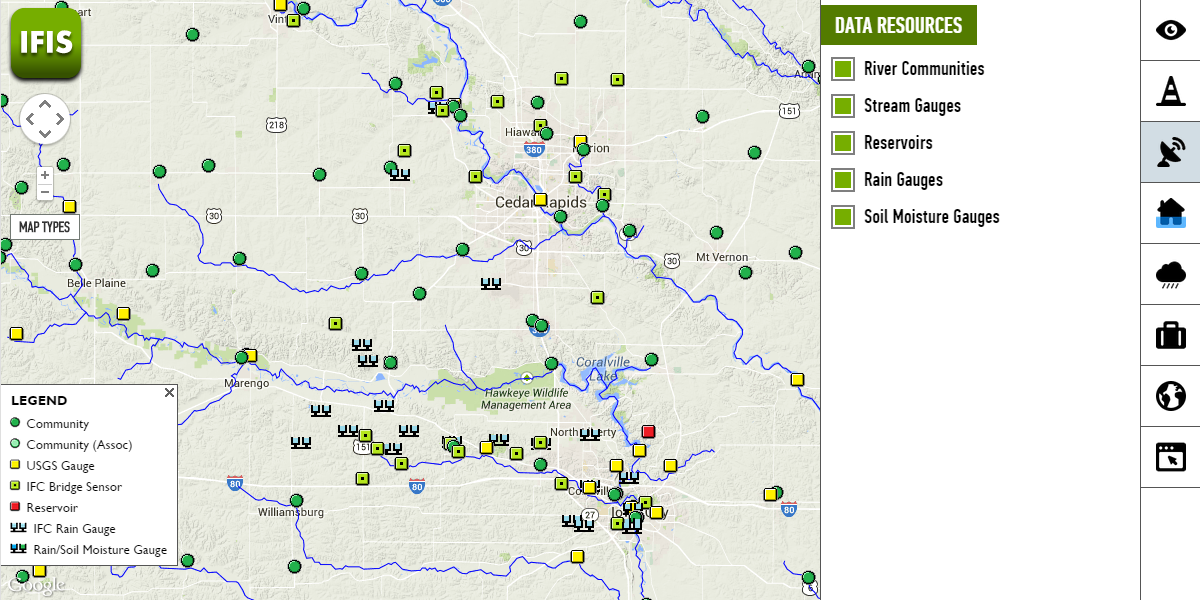 SOIL MOISTURE DATA VISUALIZATION
Data from rain and soil moisture gauges are visualized in a custom interface.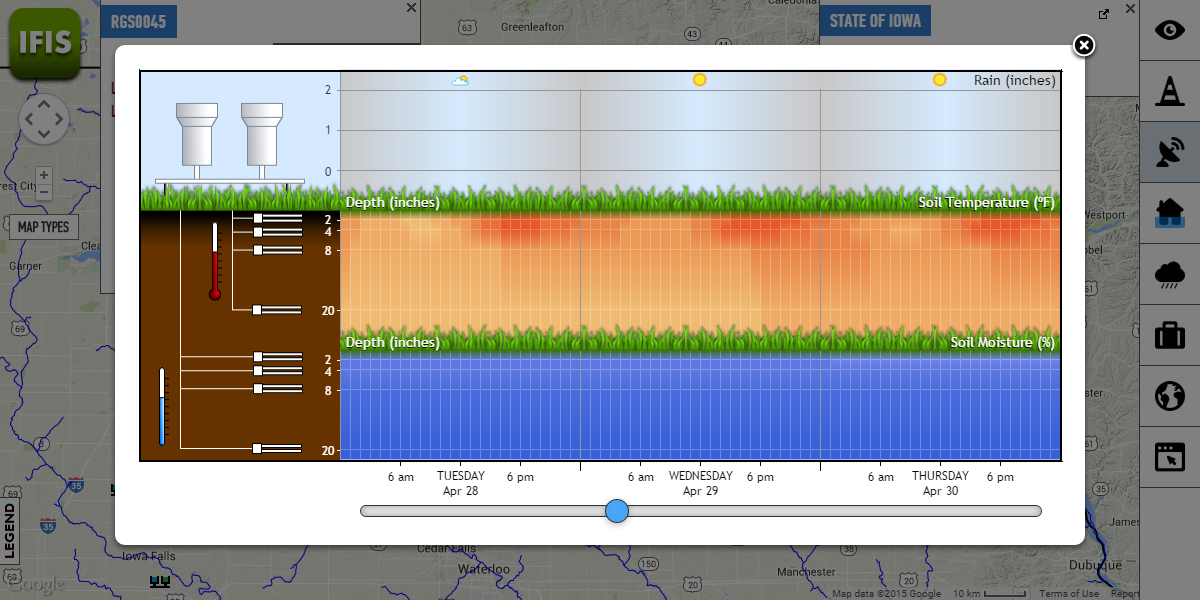 RIVER VIEW
Visualization of data from multiple IFC bridge sensors and USGS gauges in a single view along a river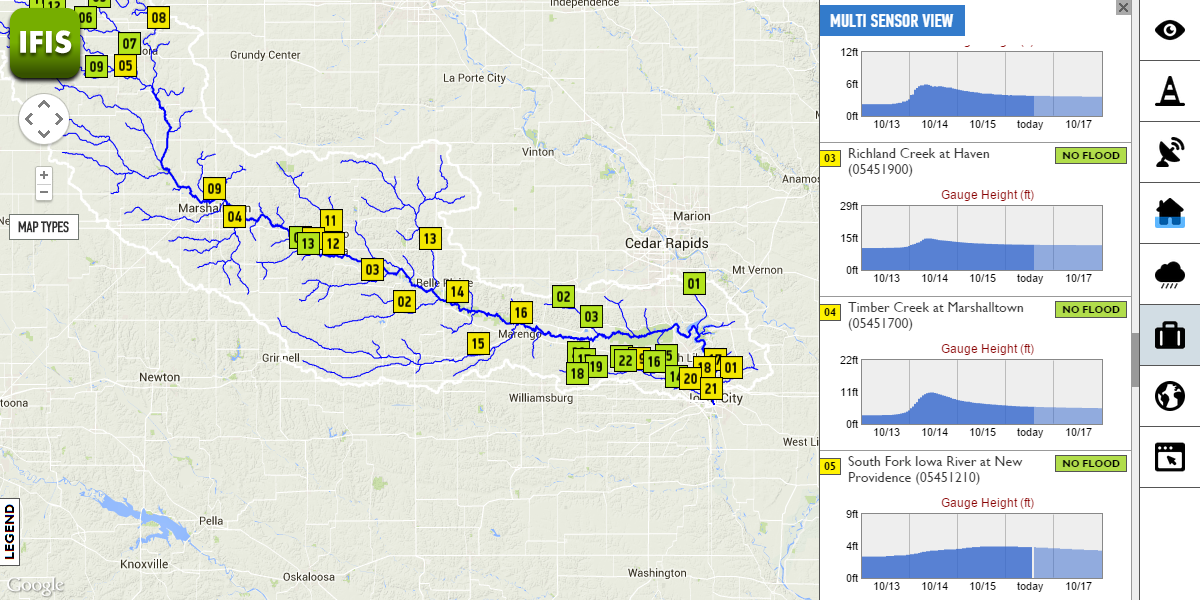 3D TERRAIN VIEWER
Visualize any location in Iowa using 3D terrain viewer with custom texture and elevation services (utilizing WebGL)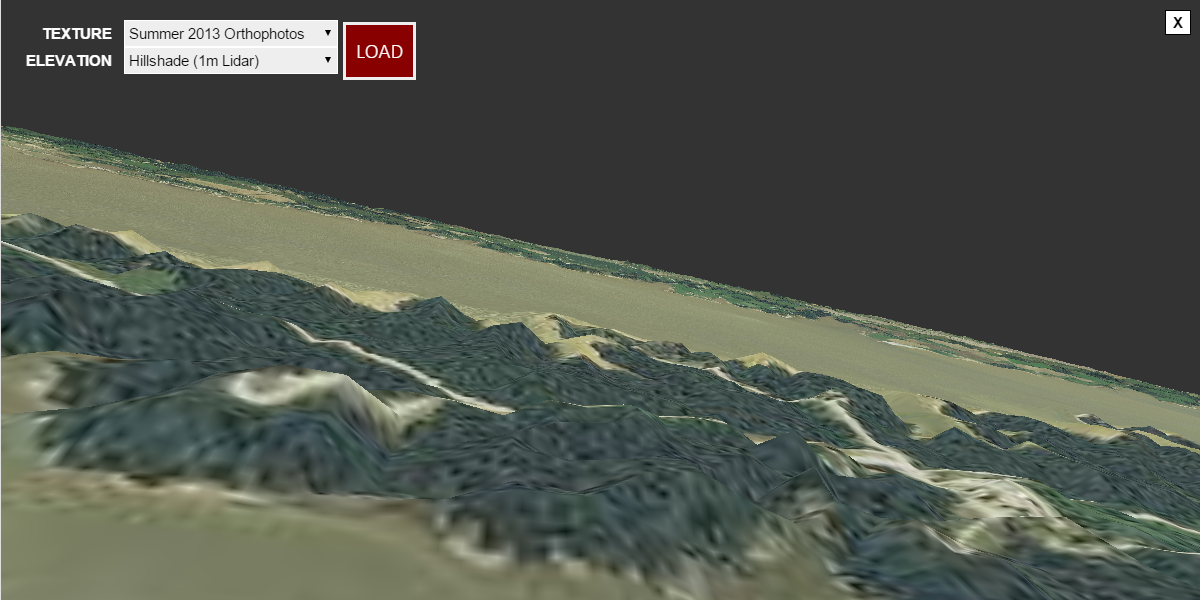 FLOOD VIDEO STREAM
Record, upload and share videos of flooding in Iowa using IFIS web-based video recorder.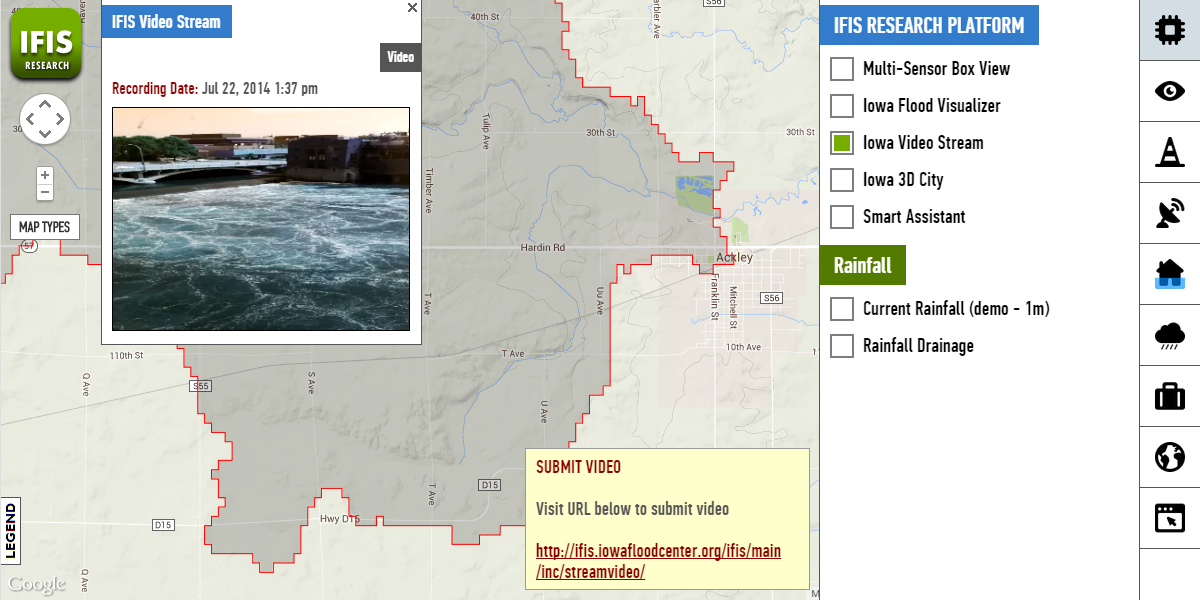 REALISTIC FLOOD VISUALIZER
Create interactive and realistic flood scenes anywhere (streets, highways, inside stores) in Iowa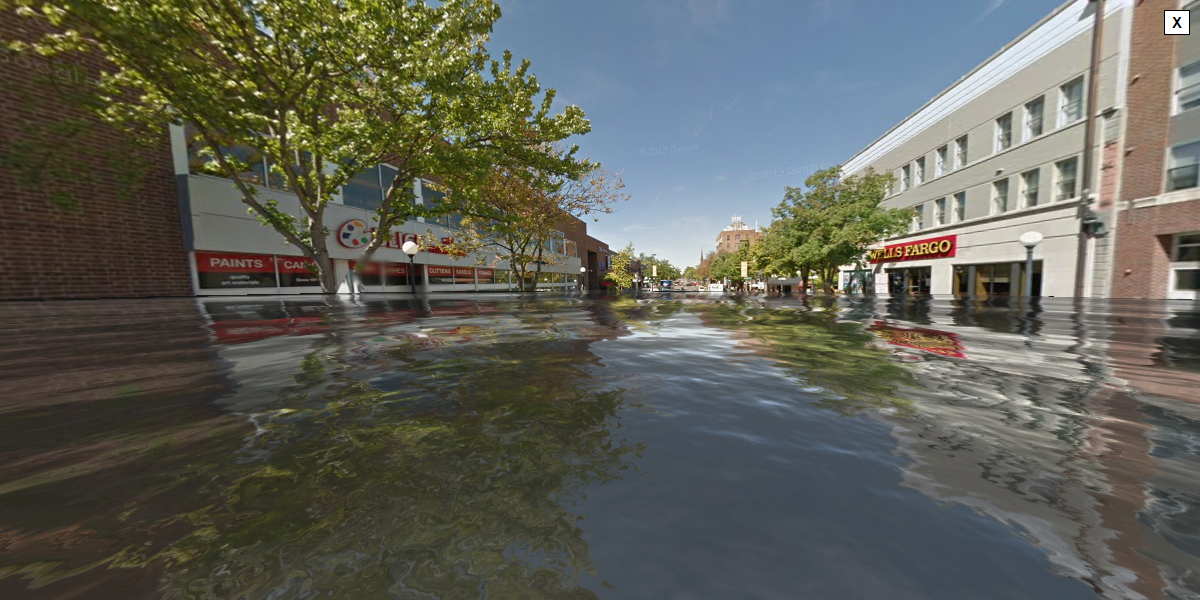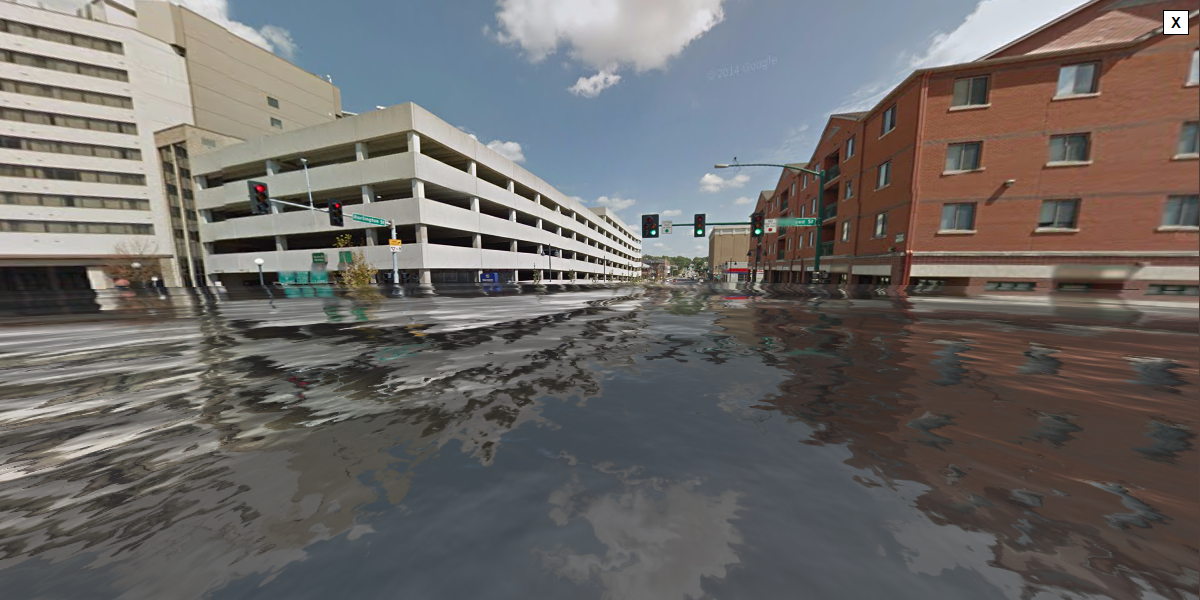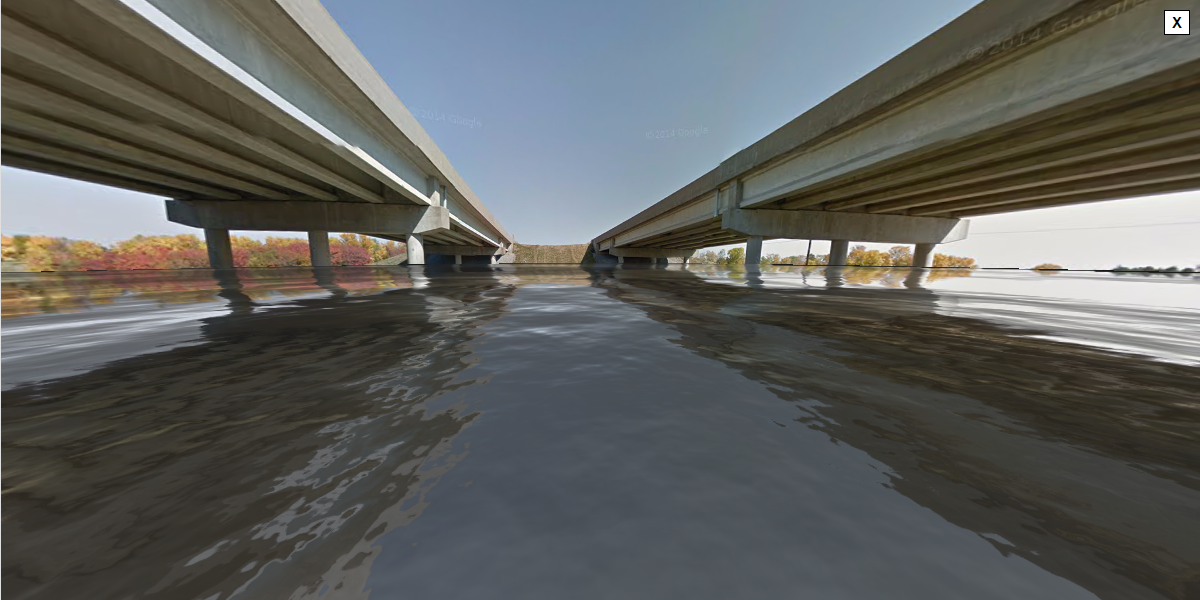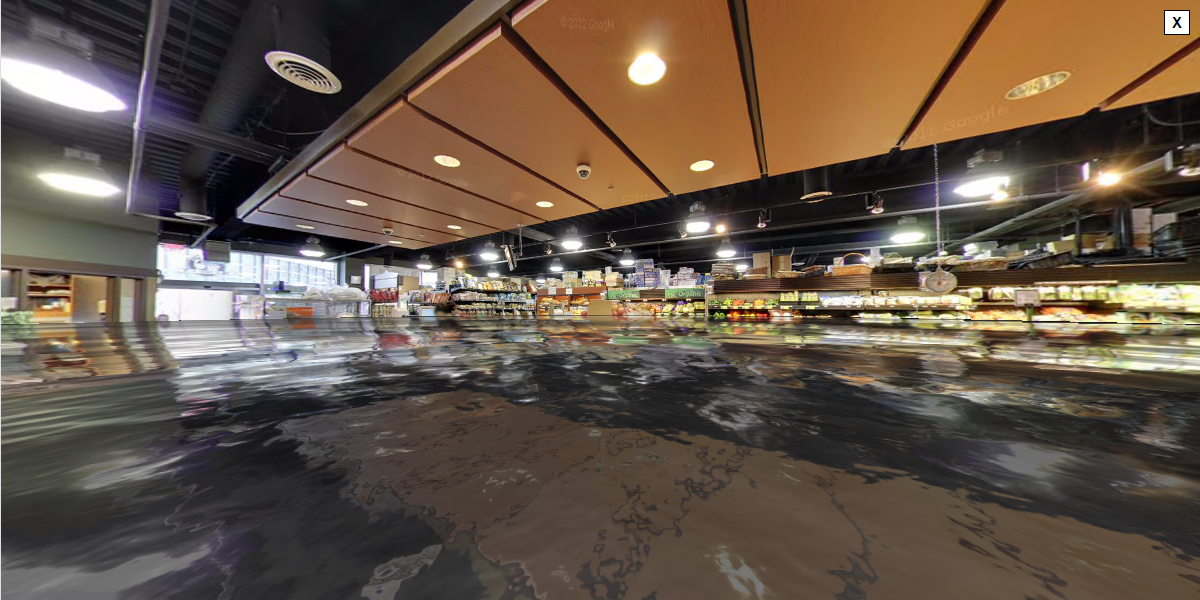 3D CITY VISUALIZER
Create interactive and city scenes anywehere in Iowa (utilizing WebGL)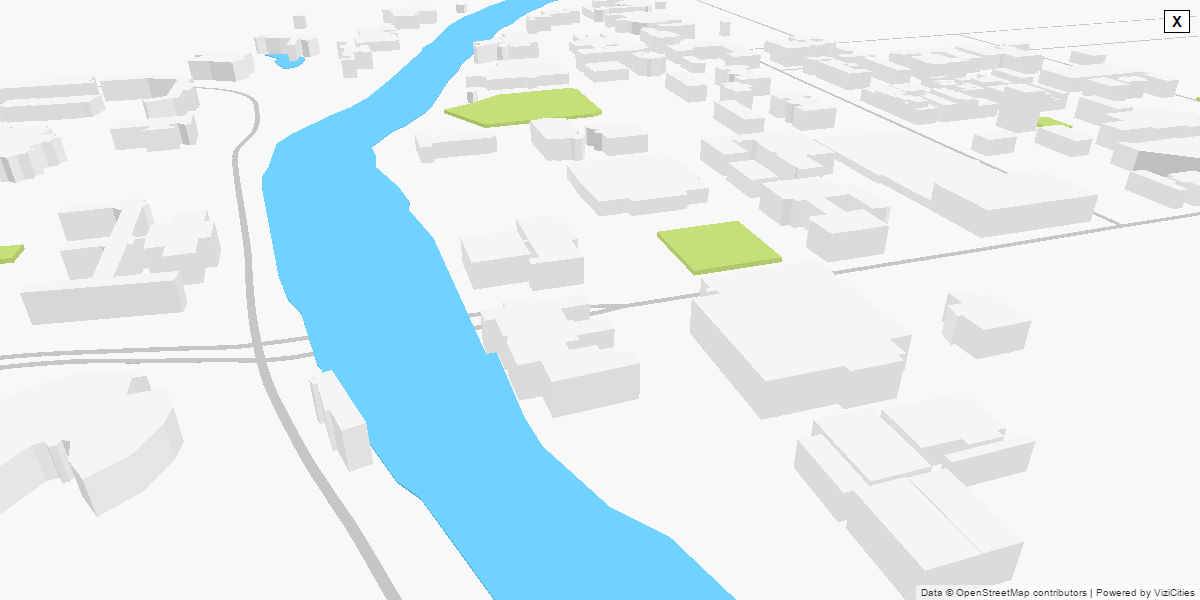 IFIS WIDGET
Integrate flood alerts to your website using IFIS Widget.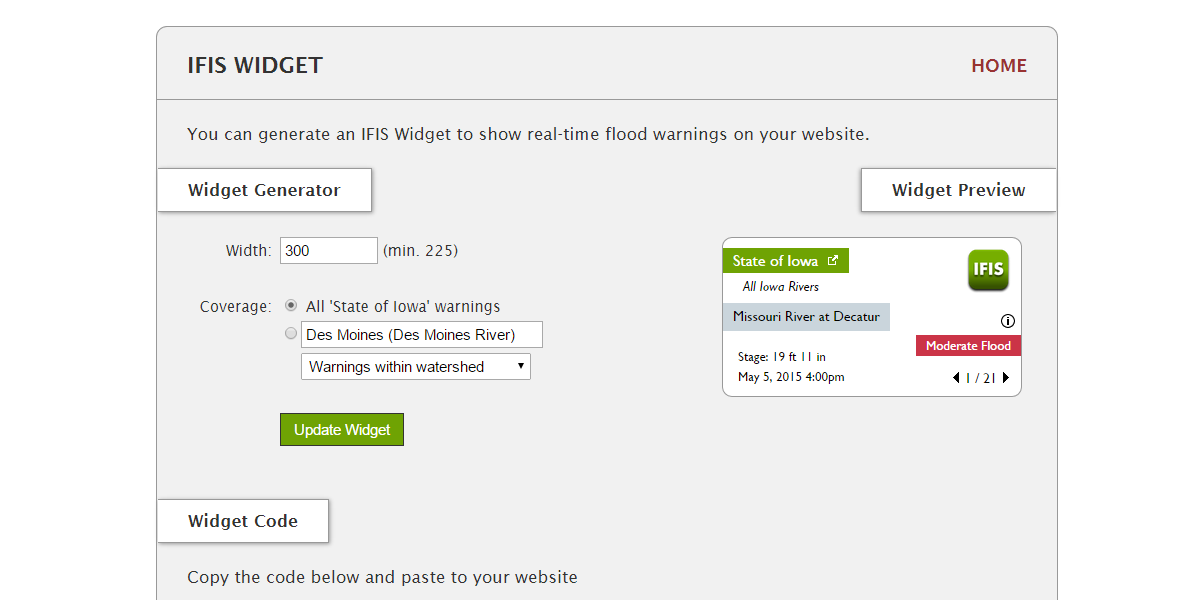 IFIS KNOWLEDGE ENGINE
Ask questions and generate answers for everything related to floods in Iowa supporting voice recognition (inspired by iOS Siri, Google Now and Wolfram Alpha)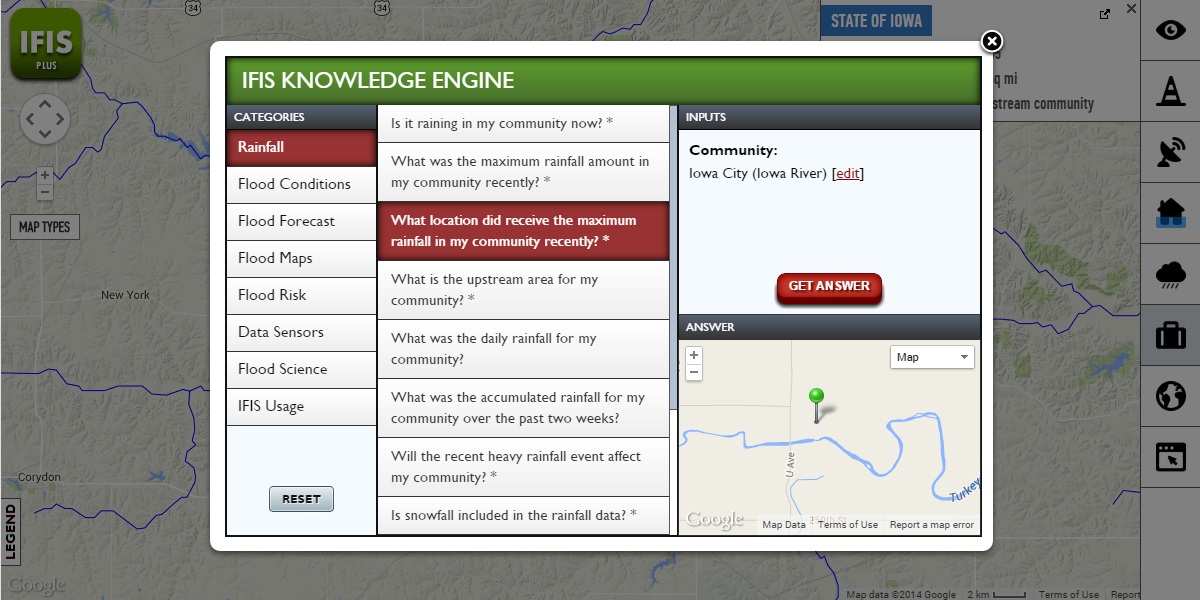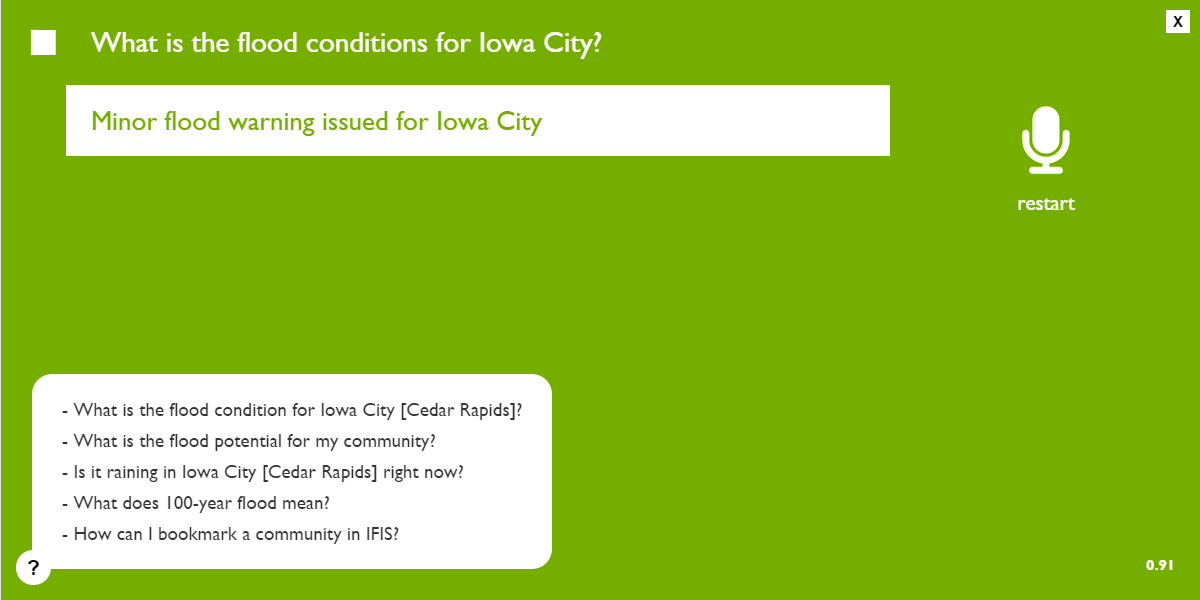 RAINFALL TRACKER
See how rainfall moves in the river network. Click anywhere on the map and see rain draining in the river network.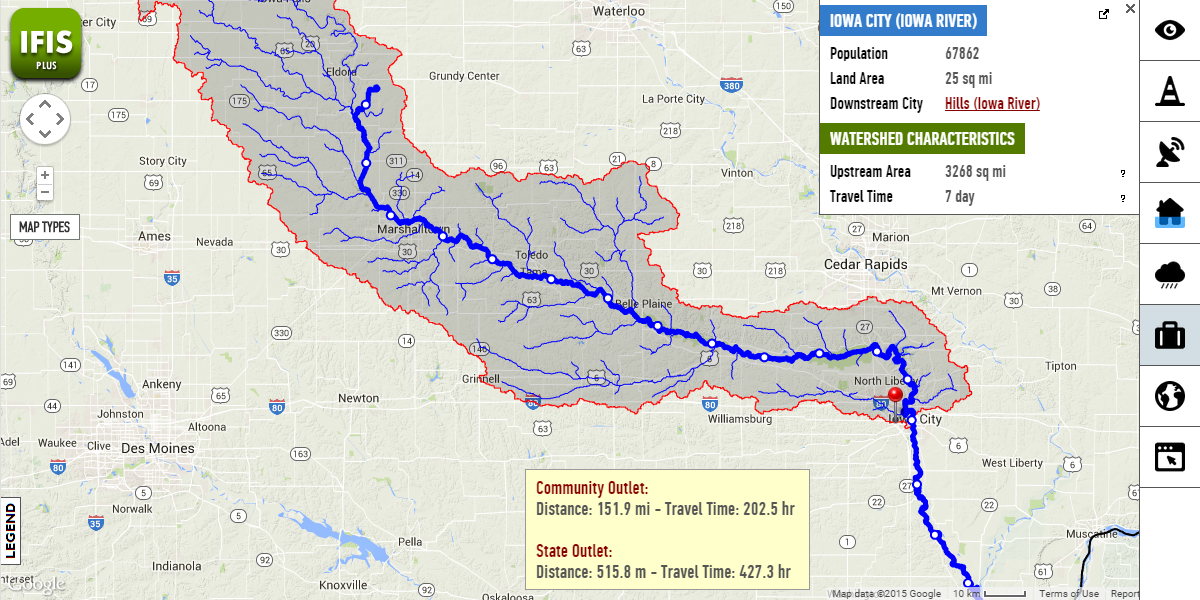 WATERSHED DELINEATION TOOL
Click anywhere on the map and generate watershed instantly in Iowa.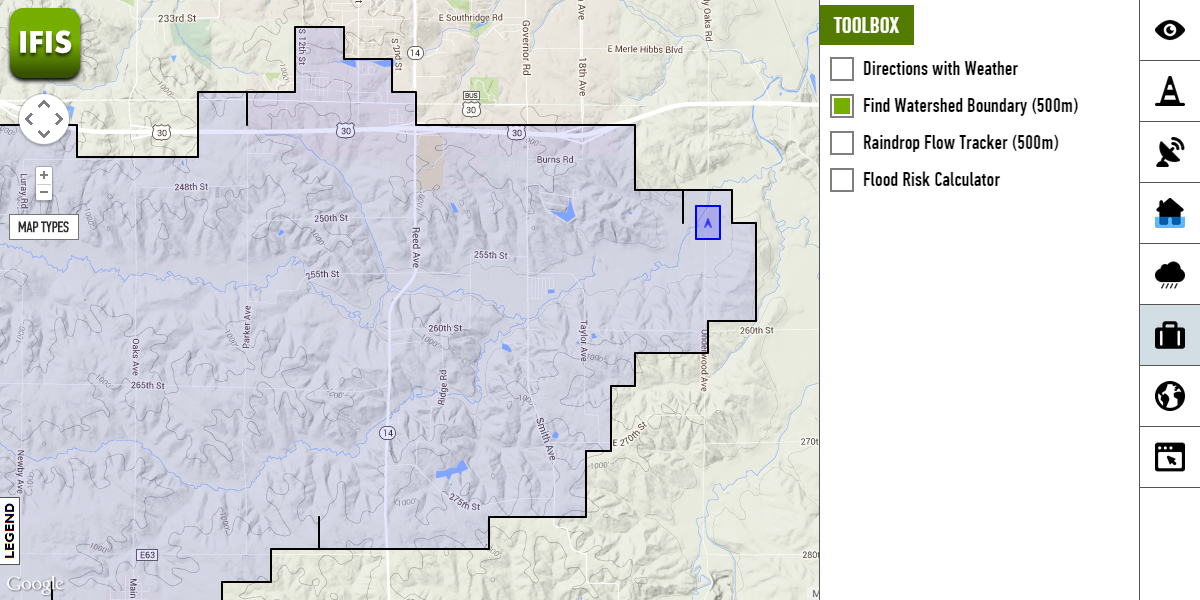 RAINFALL DRAINAGE VISUALIZER
Select any real-time rainfall product and animate the drainage on the river network.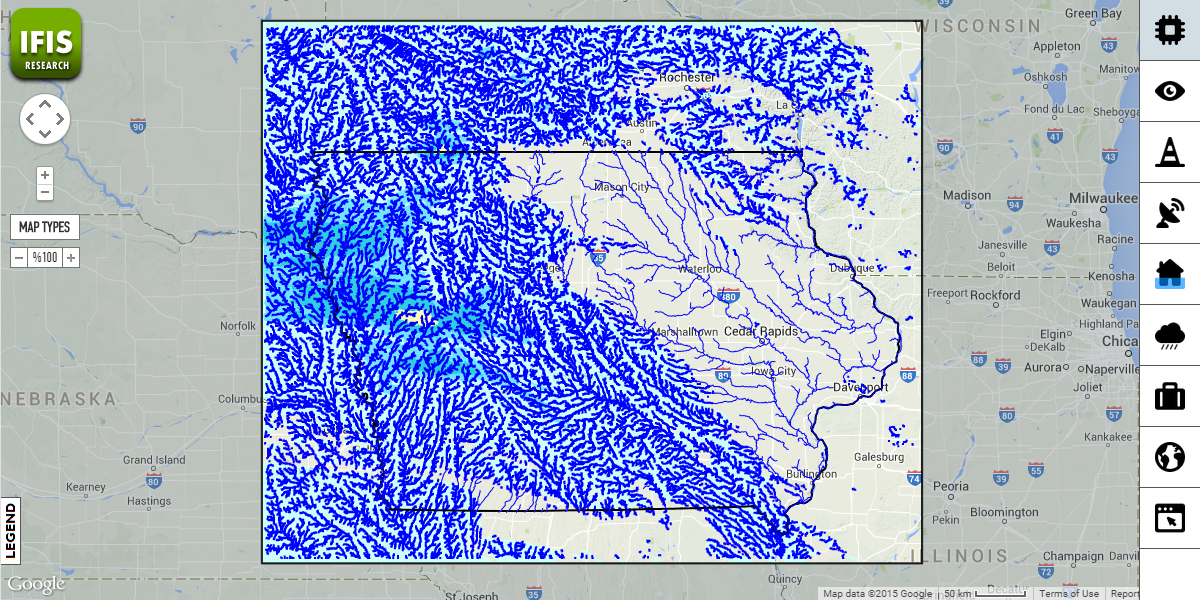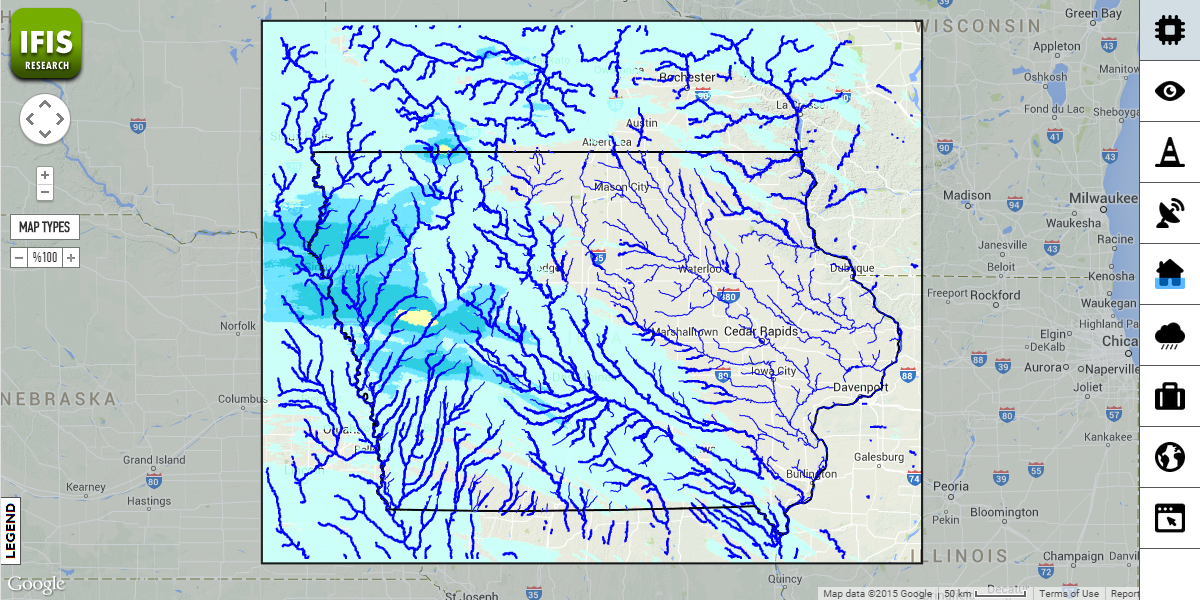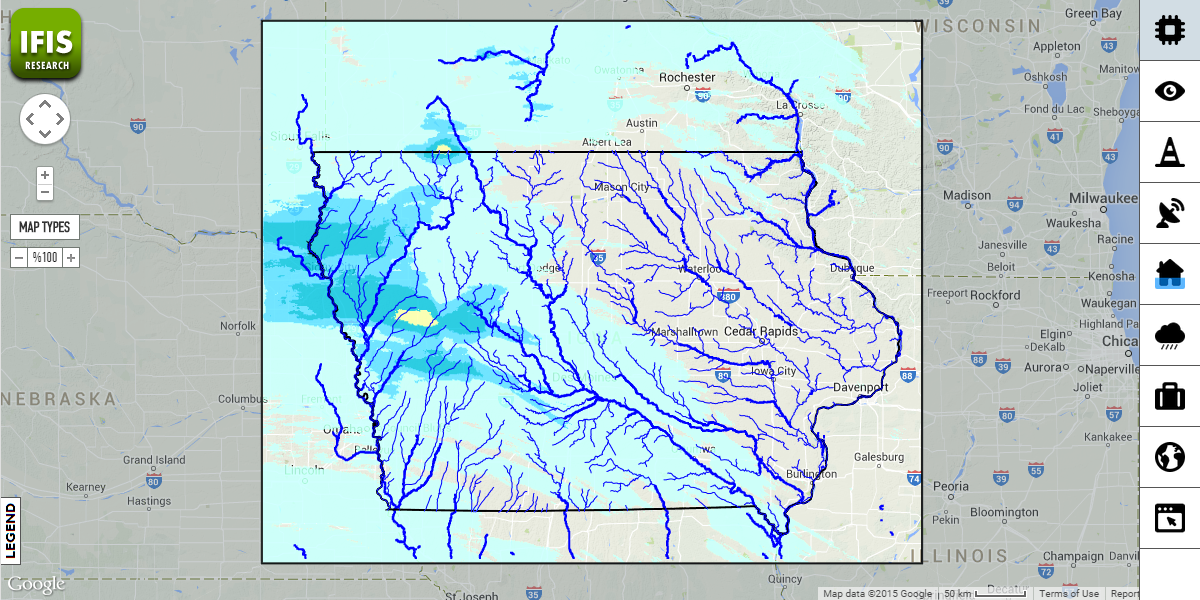 SENSOR NETWORK VISUALIZER
Visualize network of stream sensors and animate values through time in an interactive grid-based visualization.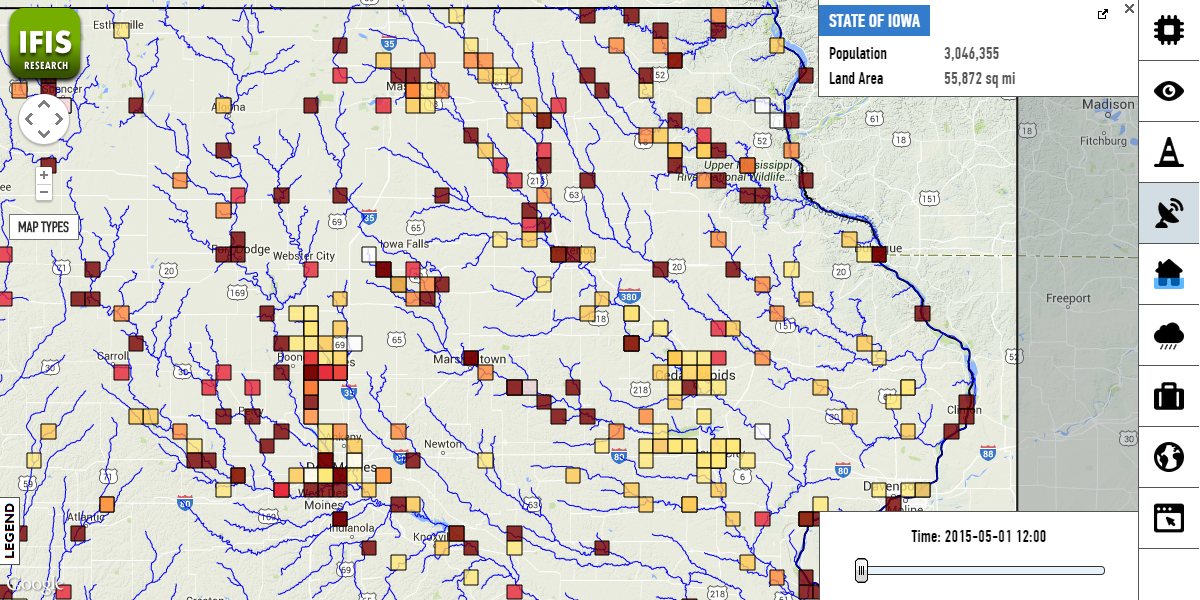 SENSOR EXPLORER
Data analytics tool for filtering and querying stream sensors.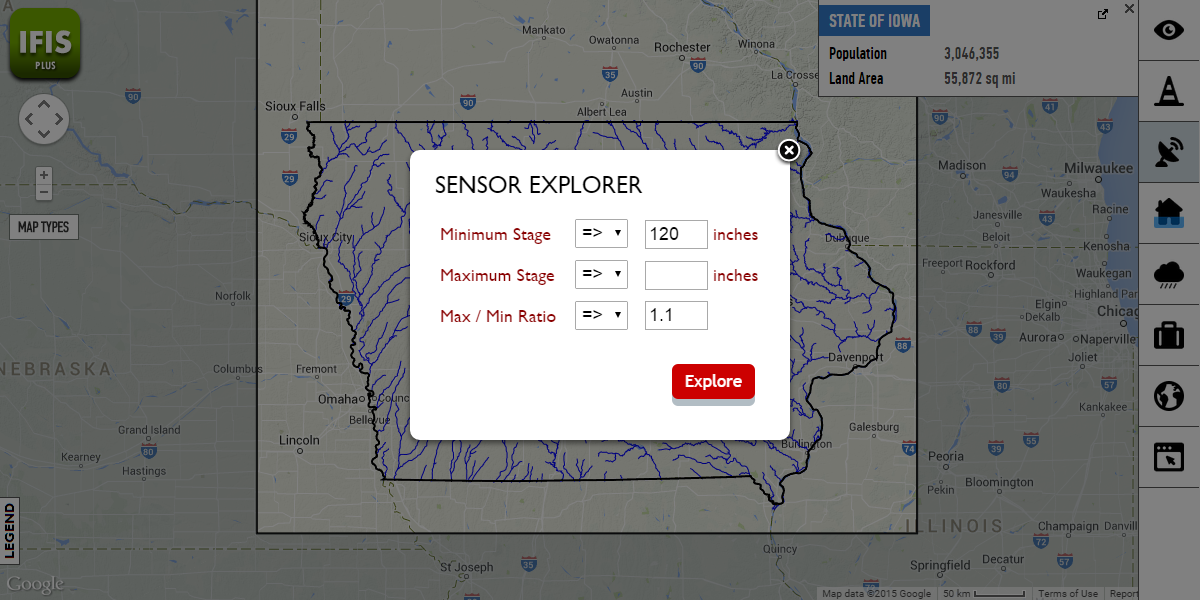 CUSTOM MAP LAYER
Add any map layer on IFIS using KML, KMZ or GeoRSS formats.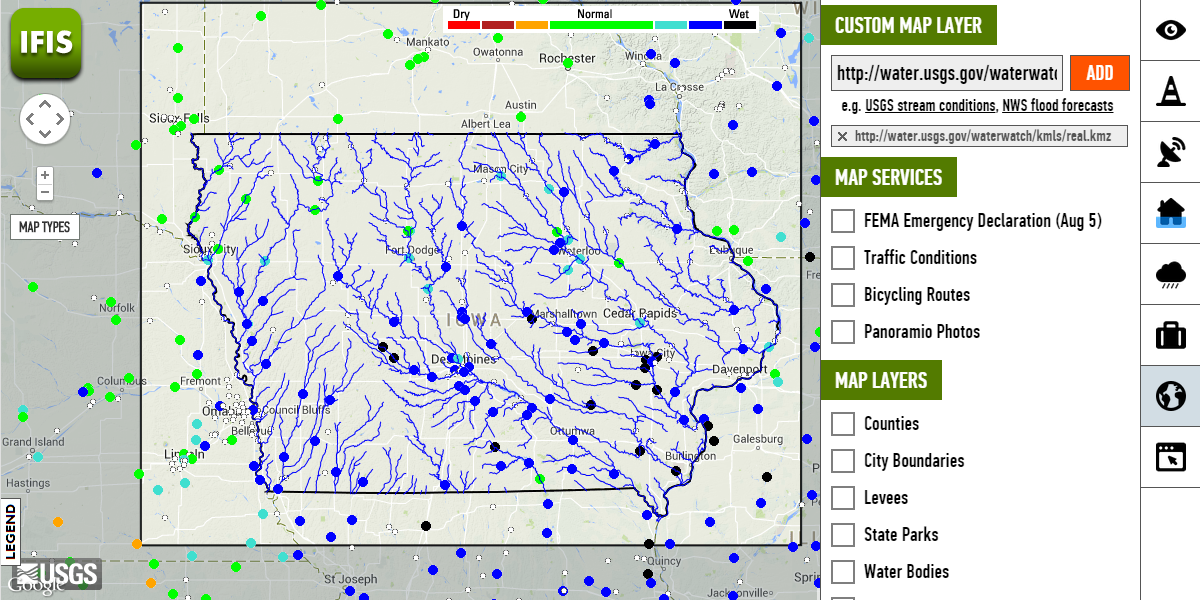 SPLIT MAP VIEW
Split map view for IFIS to compare features and data resources for two location on the map.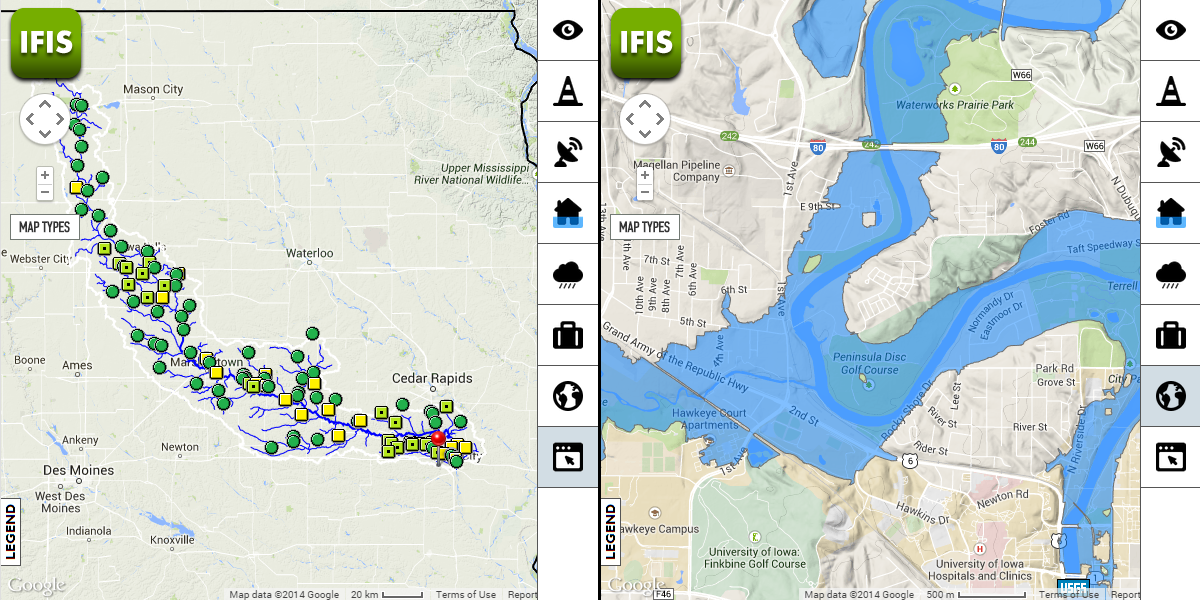 IFIS WEB SERVICE
Integrate and download data from IFC stream sensors using IFIS Web Service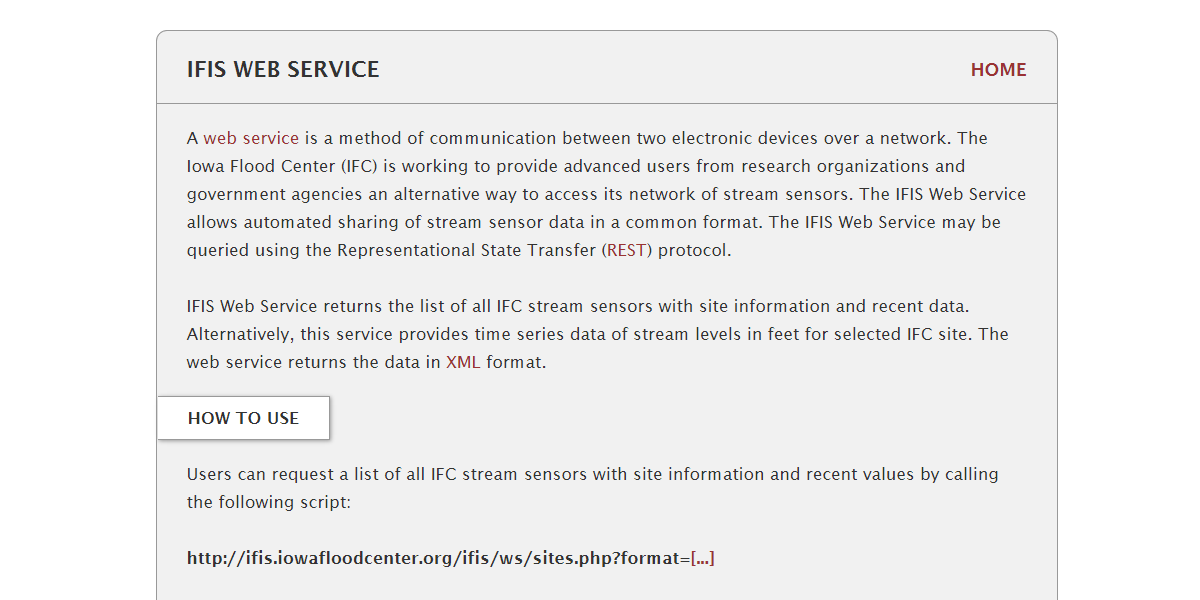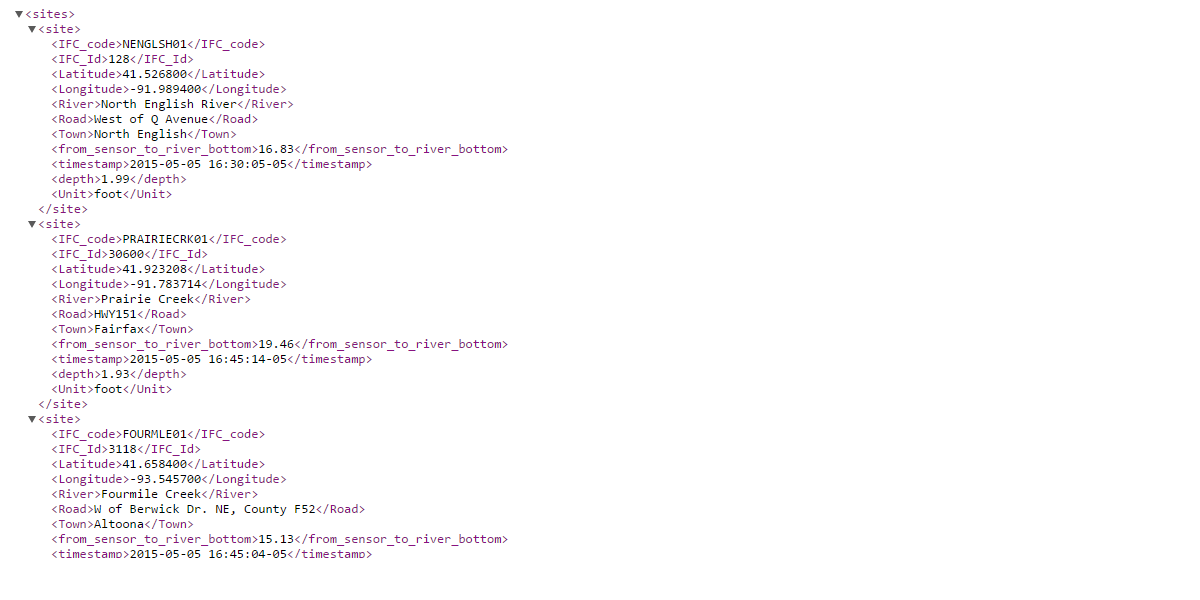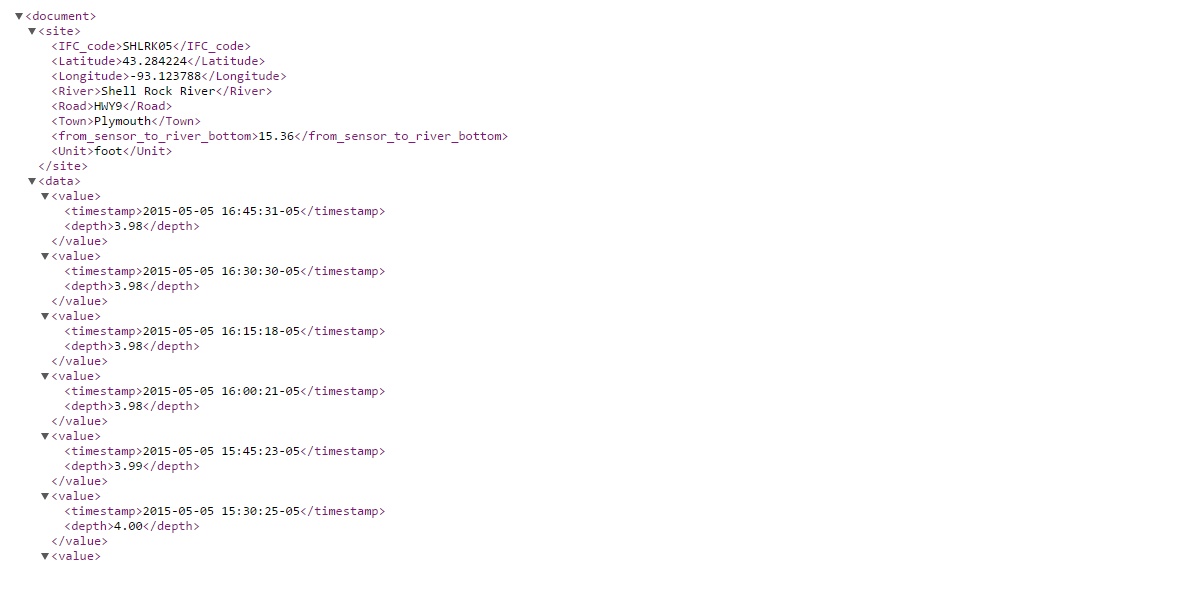 IFIS MOBILE
Optimized IFIS web interface for mobile devices (e.g. smart phones, tablets)